HEY...(pause 4 dramatic effect) How U doin'?
sea7173 has been notified that you want to learn about him.
Check back after a few days & see if he has added more details to his profile.
Like
«
»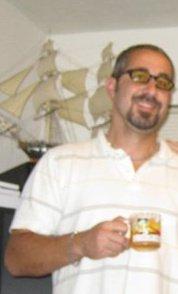 Active within 2 weeks
41 year old man
Hialeah, Florida, United States
Seeking:

women 27-35

Within:

25 Miles of Hialeah, Florida, United States
Relationship:

Never Married

Have kids:

No

Want kids:

Someday

Ethnicity:

Latino / Hispanic

Body type:

About average

Height:

6'0" (182cms)

Faith:

Christian / Other

Smoke:

Cigar aficionado

Drink:

Social Drinker
ABOUT HIM & WHO HE'S LOOKING FOR
DISCLAIMER: I usually type in "text mode", so I apologize in advance if this isn't the proper etiquette, but 1) i'm lazy and impatient when it comes 2 typing and 2) i'm trying 2 preserve character space. although i'm just realizing that (how ironic) this "disclaimer" cost me some character space. I digress...i'm a laid back easy goin person,who's fiercely loyal to my family and those who i consider friends. i'm down 4 nething once (as long as it doesn't include hot sauce/spicy food) just 4 d sake of d experience . not a fan of clubbin but i can do it every so often. i like goin 2 concerts, comedy clubs and hangin w/ friends. i'm looking 4 some1 2 get 2 know, and if the chemistry is right hopefully something can develop from there. since i'm self employed (or should i say working in the family business) it has it's pros and cons. Pros: i can take frequent vacas. Cons: most of them r short stints such as long weekends, so unfortunately i can't explore as much as i'd like. although, in my case i don't have a yearning 2 c d world (it's not 2 say that i wouldn't) but i guess u can say i wouldn't loose sleep over not traveling abroad frequently. i do however, have a couple of spots on my bucket list such as Venice, France and to the motherland of "das boot" during Octoberfest. in the US: Hawaii, Cali, Chicago, Cleveland (Rock and Roll hall of fame) Vegas / Grand canyon 2 hopefully do some atv riding along one of the grand canyon's rims. the following is a PSA (public service announcement) : whatever u do don't get a smart tv . i just bought 1(it's not that big,**ghetto accent** i ain't rollin like that, aight? (retorical question). nonetheless,**surfer accent** it's freggin awesome (i'm not gonna give u details on how raw they are with their apps and capabilities 'cause then this'll turn more in2 a commercial rather then a warning). the point is, i might not ever get off my couch. i'm fearful that the next time i leave d house i might get a sun burn b4 i get 2 d car. it's 2 late 4 me but save urselves. if u wanna live ur life 2 d fullest. stay the hell away from them. unless there's a power outage, potentially our 1st date might have 2 b a online chat while watching netflix and listening 2 pandora. JESUS, HELP ME
Interests:

Coffee and conversation, Dining out, Movies/Videos, Music and concerts, Exploring new areas, Playing cards, Playing sports, Travel/Sightseeing, Video games, Watching sports

Sports & exercise:

Auto racing / Motorcross, Baseball, Basketball, Billiards / Pool, Bowling, Cycling, Football, Skiing, Swimming, Tennis / Racquet sports, Other types of exercise, VolleyBall

Exercise habits:

I exercise 1-2 times per week

Pets:

Pet Essay:

i particularly like big dogs (most small breeds or particularly "lap dogs" are very temperamental AKA annoying). if i had 2 choose, my favorite breeds are boxers and pugs while my feminine side likes cocker spaniels & labs

Political views:

Middle of the Road

Sign:

Don't display my sign

College:

I'll tell you later

For fun:

i like music sports, food, family friends. as long as any or all of these elements r on the menu, then it'll b an enjoyable experience for me.

Favorite hot spots:

i can't usually take long trips but i do take short trips, such as to visit family in tampa/ orlando & panama city and every so often to PR. i like going to the keys 4 d change of pace. generally i'll hang w/friends @ sports bars 4 happy hour

Favorite things:

when i'm home, i'm catching up on my dvr programs consisting of sports, sit coms and documentaries of mafia and historic events that transformed history.

Last read:

sports page of the herald. it pains me 2 read anything but menus.
ABOUT...
HIM
HIS DATE
APPEARANCE:
Height:

6'0" (182cms)

3'0" (91cms) to 8'0" (243cms)

Body type:

About average

Slender, About average, Athletic and toned, A few extra pounds

Eyes:

Brown

Black, Blue, Brown, Green, Hazel

Hair:

Light brown

Auburn / Red, Black, Light brown, Dark brown, Blonde, Dark blonde, Platinum

LIFESTYLE:
Smoke:

Cigar aficionado

No Way

Drink:

Social Drinker

Social Drinker, Regularly, Moderately

Occupation:

Other profession

Administrative / Secretarial, Artistic / Creative / Performance, Executive / Management, Financial / Accounting / Real Estate, Legal, Medical / Dental / Veterinary / Fitness, Political / Govt / Civil Service / Military, Retail / Food services, Sales / Marketing, Self-Employed / Entrepreneur, Student, Education / Teacher / Professor, Technical / Science / Computers / Engineering, Travel / Hospitality / Transportation, Nonprofit / Volunteer / Activist, Law enforcement / Security / Military, Fashion / Model / Beauty, Architecture / Interior design

i work in my family owned pest control company. it's not a gold mine nor r we rich, but it affords me a fair amount of flexibility regarding my time w/out being a slave 2 d business and letting me enjoy d fruits of my labor.

Income:

I'll tell you later

No preference

Relationship:

Never Married

Never Married, Divorced

Have kids:

No

No

Want kids:

Someday

Definitely, Someday, Not sure

BACKGROUND/VALUES:
Ethnicity:

Latino / Hispanic

Latino / Hispanic

my mom is PR & my dad is Cuban. they both came 2 d US fairly young and r very let's say "Americanized". they're both family oriented and have instilled it in me and my younger brother.

Faith:

Christian / Other

Christian / Catholic, Christian / LDS, Christian / Protestant, Spiritual but not religious, Christian / Other

Languages:

English, Spanish

English, Spanish, Other

Education:

Some college

High school
Your message has been sent to sea7173
We encountered a problem sending your message to sea7173. Please try again later.