Jack Dawson Meets Will Hunting And Goes On The Journey Of A Lifetime
Perfect_Kiss has been notified that you want to learn about him.
Check back after a few days & see if he has added more details to his profile.
Like
«
»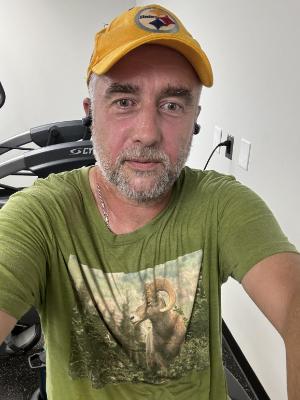 Active within 24 hours
40 year old man
Conshohocken, Pennsylvania, United States
Seeking:

women 30-44

Within:

5000 Miles of Conshohocken, Pennsylvania, United States
Relationship:

Never Married

Have kids:

No

Want kids:

Not sure

Ethnicity:

White / Caucasian

Body type:

About average

Height:

6'0" (182cms)

Faith:

Spiritual but not religious

Smoke:

Yes, but trying to quit

Drink:

Social Drinker
ABOUT HIM & WHO HE'S LOOKING FOR
Match is fill of fake profiles that like or wink but don't write. Write to show your profile isn't fake.

Now back to the regularly scheduled profile.

Now that the big 40 just hit, it is time to update the profile a bit. How are things holding up, what's going on now and what does the future hold? All things you are dying to know right? Well here's the scoop!

Over the years the hair on the top of my head has given way to a little more skin and there is a "touch of gray" where once it was a Conan-like mop all over. Lots of times when this happens to guys they turn into gorillas. The hair that once grew on their heads starts growing like a moss in a rain forest on their backs. So far that is not an issue, not even a little bit.

How about teeth? Everything was going fine in that department until a big scare a couple years ago. After only one cavity in 34 years the dentist told me I had NINE cavities after waving this new magic wand around in my mouth.

WTF? Was my body getting ready to fall apart? Turns out Dr. D got a new toy he needed to pay for and what better way to do so than to tell patients it detected a cavity that needed to be drilled in every other tooth they had. Big $$$$. After a second and third opinion there were no cavities but losing the wisdom teeth might be a good idea. I'm down two wisdom teeth with the other two on the way out in April. The rest function good as new.

So far I'm free of any medications of any sort. No Ambien, Prozac, Cialis or anything else trendy on the menu at this point. If I could have my own bathtub on the beach maybe I'd try Cialis but until then, everything works just fine. I did freak out at one point and start using Rogain. It didn't do anything but give me lock jaw. That nasty, smelly, oily crap that is Rogain runs down the side of the head when its hot in the summer. It must collect in the ears and somehow make the jaw hurt like hell. I gave that up pretty fast.

When I hit 36 I decided I had enough of my job (at an online marketing agency) and quit. The original plan was to go out to Snowbird in Utah and ski for two months then find another cubicle with a computer to stare at. Road tripping turned out to be pretty cool and the last 4 years have been spent road tripping (100,000 miles) to all the US National Parks in the lower 48 states and anything else cool "in between the airports". Each year I crash back in Conshohocken for a month or two and then head back out. Camping and sleeping in the car keep it affordable so I'm usually pretty wiped out when I get back to Conshy.

Along the way I've been hopelessly lost in the canyons of Utah wondering if I'd ever make it out alive, camped out on the Channel Islands for a couple weeks and run around with Grizzly Bears in Montana for a couple weeks.

In 2014 I'll be back in Conshy in May/June sometime to catch up on things and sleep and then head back out for one more year. This year it will be the Pacific Northwest, Yellowstone, Glacier, the Canadian Rockies mostly with a little bit of California, Utah and some other favorite and new spots tossed in. Photography has become a passion and for a while I thought I'd make a living doing that. It does generate some income from sales and various contests but I'll probably have to find something else to pay most of the bills.

When the travels are done it'll be time to start on the next stage of life. Go find something cool to do, settle down in one spot with one person. Maybe there will be a family in the future. I've come to value experiences over stuff over the last few years. Keeping things simple is nice. Working less, consuming less and having the time to get out and enjoy the outdoors is worth so much more than 14 hour high stress days in an office no matter how much it pays.

So, what's your story? What makes you tick?
Interests:

Camping, Cooking, Dining out, Fishing/Hunting, Gardening/Landscaping, Movies/Videos, Music and concerts, Nightclubs/Dancing, Playing cards, Playing sports, Shopping/Antiques, Travel/Sightseeing, Video games, Volunteering, Watching sports, Wine tasting

Sports & exercise:

Billiards / Pool, Bowling, Cycling, Football, Dancing, Martial arts, Skiing, Swimming, Tennis / Racquet sports, Walking / Hiking, Weights / Machines, Other types of exercise, VolleyBall

Exercise habits:

I exercise 5 or more times per week

Pets:

Pet Essay:

I grew up with quite a variety over the years but don't currently have any.

Political views:

Liberal

Sign:

Aquarius

College:

I'll tell you later

For fun:

Skiing big bumps and powder, sailing, windsurfing, camping, mtn biking, traveling anywhere, feeding my brain, exploring the national parks, road tripping, photography, movies, cooking.

Favorite hot spots:

Yellowstone, the Utah National Parks and Utah in general, Olympic National Park, The Wave, Snowbird Ski Resort and anywhere there is a challenging bump or powder run, a romantic spot for a kiss!

Favorite things:

Fresh Seafood, Green Tea, Bolthouse Juices, high thread count sheets, sunset & sunrise, an intense thunder & lightning storm, travel, dirty martinis, a valid ski pass, curling up by the fire, a passionate kiss...that lasts for an hour. ;-)

Last read:

It might have been your profile but aside from that, Waiting For Your Cat to Bark, Lairs Poker. "The Goal" was probably the most influential book I've read.
ABOUT...
HIM
HIS DATE
APPEARANCE:
Height:

6'0" (182cms)

5'3" (160cms) to 6'2" (187cms)

Body type:

About average

Slender, About average, Curvy, Athletic and toned

Eyes:

Hazel

No preference

Hair:

I'll tell you later

No preference

LIFESTYLE:
Smoke:

Yes, but trying to quit

No Way, Occasionally, Yes, but trying to quit

Drink:

Social Drinker

No preference

Occupation:

Self-Employed / Entrepreneur

Administrative / Secretarial, Artistic / Creative / Performance, Executive / Management, Financial / Accounting / Real Estate, Labor / Construction, Medical / Dental / Veterinary / Fitness, Political / Govt / Civil Service / Military, Retail / Food services, Sales / Marketing, Self-Employed / Entrepreneur, Student, Technical / Science / Computers / Engineering, Travel / Hospitality / Transportation, Other profession, Nonprofit / Volunteer / Activist, Fashion / Model / Beauty, Architecture / Interior design

Quit my job about 3 years ago to road trip across the country (see the photos), I still do some online marketing stuff to pay the bills but definitely live on a budget now! Aiming to make landscape photography the next "job", Will see how it goes

Income:

I'll tell you later

No preference

Relationship:

Never Married

Never Married, Widow / Widower, Currently Separated, Divorced

Have kids:

No

No answer

Want kids:

Not sure

No preference

BACKGROUND/VALUES:
Ethnicity:

White / Caucasian

No preference

Pittsburgh native, moved out to Philly in 01' for a job. GO STEELERS! GO PENS! Philly is cool but I'm by no means tied to this area. Put me near the mountains and a beach (or a lake) and I'm happiest.

Faith:

Spiritual but not religious

No preference

Born Methodist but never go to services. There is definitely something out there, so, spiritual not religious is right on for me. Would love to find someone with similar beliefs, to discuss, to explore.

Languages:

English, Spanish, Urdu

No preference

Education:

Bachelors degree

Some college, Associates degree, Bachelors degree, Graduate degree, PhD / Post Doctoral

Spent 5.5 years working on an Industrial Engineering undergrad at UPitt (Go Panthers!)....and graduated in 97'. Would like to go back to grad school at some point, most likely for something other than engineering.
Your message has been sent to Perfect_Kiss
We encountered a problem sending your message to Perfect_Kiss. Please try again later.