jmoore2123 has been notified that you want to learn about him.
Check back after a few days & see if he has added more details to his profile.
Like
«
»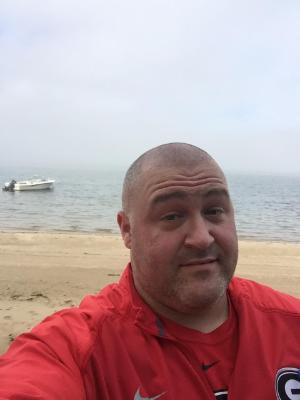 Active within 24 hours
33 year old man
Madison, Georgia, United States
Seeking:

women 26-34

Within:

50 Miles of Madison, Georgia, United States
Relationship:

Divorced

Have kids:

No

Want kids:

Definitely

Ethnicity:

White / Caucasian

Body type:

Stocky

Height:

5'8" (172cms)

Faith:

Christian / Protestant

Smoke:

No Way

Drink:

Social Drinker
ABOUT HIM & WHO HE'S LOOKING FOR
Does the thought of diving off a waterfall or climbing a mountain excite you? If so then we already have something in common. Nothing would excite me more than to spend a week trekking with Bear Grylls or Les Stroud learning how to survive and thrive in the wilderness. I love being out in nature whether it be a sunny spring morning on the trail or a rainy winter evening on a mountainside. I do all of this without a net or the mountain man beard.

People always tell me that I remind them of Kevin James and I am starting to see it the more i watch myself. I am a very lively and fun person who is always joking about something. I like to keep the mood lighthearted and fun to help people to feel more comfortable. Be mindful because I am known to pull pranks every now and then. I tend to poke fun at my own poor decisions and I am definitely my own worst critic. Thankfully, I know how to have a serious conversation when the situation arises as well. I tend to trust people openly and freely and i wear my heart on my sleeve. I believe everyone deserves a second chance but only if you make the most of it.

I will try anything at least once so i definitely have that adventurous spirit in me. I figure you only live once so you might as well make something of it while your here. My favorite movie quote is "Get Busy Living, or Get Busy Dieing!", and that seems to fit that to the letter.
I am a very competitive person, although I don't feel the strong desire to win everything. I just like to have the skills, knowledge and goals I have put to the test.

My job requires me to be an expert at several different areas so I am very meticulous and I like to know as many details as possible in everything I do. However, I am spontaneous enough to do it no matter what. I just like to know what i am getting myself into. I am also required to think on my feet and adjust at a moments notice to changing situations.

I am very outspoken and not afraid to speak my mind. Thankfully, I was taught the gift of tact and use it daily to convey my thoughts and feelings in a way that doesn't offend or degrade people. I never understood the "brutally honest" mentality. I always preferred the "respectfully honest" approach because I feel you get more positive results.

Everyone always asks me what i am looking for in a girl so I will go ahead and lay the bag of sticks out right here. . .
I am looking for a girl who is spontaneous and ambitious, someone who wakes up one day and says, "Hey lets go . . ." She needs to be adventurous enough to break out of her routine and try anything at least once. She needs to know where she is going in life but not necessarily how she will get there. She will be someone who can debate existentialism with me one minute and then quote something from "Dumb and Dumber" the next.
Interests:

Alumni connections, Camping, Coffee and conversation, Business networking, Dining out, Movies/Videos, Music and concerts, Exploring new areas, Playing cards, Playing sports, Political interests, Travel/Sightseeing, Video games, Volunteering, Watching sports

Sports & exercise:

Baseball, Bowling, Football, Golf, Walking / Hiking, Other types of exercise, VolleyBall

Exercise habits:

I exercise 1-2 times per week

Pets:

Pet Essay:

I have a 2 year old boxer named Deuce. He is my best friend and my hiking buddy. We both like to stay pretty active. Thankfully he gets along with other dogs and he has never met a stranger (Just like me)

Political views:

Middle of the Road

Sign:

Libra

College:

Kennesaw State University, Kennesaw, GA

For fun:

I love to camp and hike whenever possible. I have a goal to hike as much of the Appalachian trail as possible. I have an affinity for zombie movies and will always sit down and watch one whenever possible

Favorite hot spots:

I have always wanted to travel to Europe and South America and hope to travel there someday. My dream vacation is to go backpacking in the Australian outback.

Favorite things:

My favorite TV shows included The Walking Dead, Family Guy, and Man Vs. Wild. As you can see I can watch most anything.
My favorite band is AC/DC but i can listen to almost anything except country or rap.

Last read:

Zoo by James Patterson, although I read alot of training and technical manuals for my job such as Minitab Demystified and Microsoft Access. I have recently got into the zombie genre and finished reading World War Z
ABOUT...
HIM
HIS DATE
APPEARANCE:
Height:

5'8" (172cms)

3'0" (91cms) to 8'11" (271cms)

Body type:

Stocky

About average, Curvy, A few extra pounds, Stocky

Eyes:

Hazel

Black, Blue, Brown, Grey, Green, Hazel

Hair:

Dark brown

Auburn / Red, Black, Light brown, Dark brown, Blonde, Dark blonde, Platinum

LIFESTYLE:
Smoke:

No Way

No Way, Occasionally, Yes, but trying to quit

Drink:

Social Drinker

Social Drinker, Moderately

Occupation:

Executive / Management

Administrative / Secretarial, Artistic / Creative / Performance, Executive / Management, Financial / Accounting / Real Estate, Labor / Construction, Legal, Medical / Dental / Veterinary / Fitness, Political / Govt / Civil Service / Military, Retail / Food services, Retired, Sales / Marketing, Self-Employed / Entrepreneur, Student, Education / Teacher / Professor, Technical / Science / Computers / Engineering, Travel / Hospitality / Transportation, Other profession, Nonprofit / Volunteer / Activist, Law enforcement / Security / Military, Fashion / Model / Beauty, Architecture / Interior design

I am a supervisor for a manufacturer that makes plastic drainage composites

Income:

$50,001 to $75,000

No preference

Relationship:

Divorced

Never Married, Divorced

Have kids:

No

No

Want kids:

Definitely

Definitely, Someday

BACKGROUND/VALUES:
Ethnicity:

White / Caucasian

White / Caucasian

Born and raised in the North, GA mountains. I definitely have the country accent! Although its more a twang than a drawl haha. Thankfully living in the city has diminished it some.

Faith:

Christian / Protestant

Agnostic, Atheist, Spiritual but not religious, Other

I was raised in a southern Baptist home but I have a healthy appreciate for all religions and I am always excited to learn about different belief systems

Languages:

English, Spanish

English

Education:

Bachelors degree

Some college, Associates degree, Bachelors degree, Graduate degree, PhD / Post Doctoral

I have a bachelors degree in criminal justice and I also have a professional certificate in geographic information systems, both from Kennesaw State University. I would like to one day go back and get an engineering degree or my MBA
Your message has been sent to jmoore2123
We encountered a problem sending your message to jmoore2123. Please try again later.