Get busy living or get busy dying!
SandPiper4100 has been notified that you want to learn about him.
Check back after a few days & see if he has added more details to his profile.
Like
«
»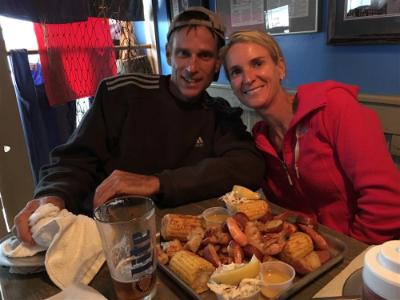 Active within 5 days
47 year old man
Wilmington, North Carolina, United States
Seeking:

women 35-46

Within:

Miles of Wilmington, North Carolina, United States
Relationship:

Never Married

Have kids:

No

Want kids:

No, but it's OK if my partner has kids

Ethnicity:

White / Caucasian

Body type:

Athletic and toned

Height:

6'0" (182cms)

Faith:

Spiritual but not religious

Smoke:

No Way

Drink:

Moderately
ABOUT HIM & WHO HE'S LOOKING FOR

Has a real life experience ever changed you as a person? When is the last time you asked yourself 'what the hell am i doing here'? Had a story in which you could explain but choose to say 'you had to be there'.

In 2001, I was provided an opportunity to work internationally in such places as Asia, Africa, Europe, India and South America. Most of my family, friends and co-workers could not understand why anyone would want to leave the good old USA and go "there". To me life is about finding out the answers to questions. And it is exactly this character issue that separates me from most others I know. Ok, enough philosophical talk! Maybe I have sparked enough interest from you to find out more?

Sometimes I think my recent life has been one big story. Rafting some of the most dangerous rivers in the world, standing at the entrance of the Taj Mahal in India is awe, looking up at the Cristo Redentor atop Corcovado mountain in Rio de Janeiro wondering how an the hell did they build that, riding camels in the United Arab Emirates, stepping over a python in the Gambia trying to get to my room or looking out the airplane window in Tanzania noticing that the summit of Mt. Kilimanjaro was still above me. But over the years one thought has always been in the back of my mind and that is 'wouldn't it be nice to have the chance to share these experiences with a special someone instead of telling the story'. Trust me I am also looking for those other things in life that mean a lot - stability, trust, etc. My point is that instead of telling you the same stuff over and over I decided to share a part of my life with you. The picture / story can change and I am looking for a reason to change it.

I love the ocean and beach and all it has to offer. I spend a lot of time at my beach. There is nothing better than spending a nice hot summer's day soaking up some rays with a cold beer and some good friends or a drink and food at an outdoor cafe with live music. I take advantage of the great weather and there is not a day that I don't do something outdoors. You could say that growing up I was a jock, playing any sport I could. But for the most part I was a soccer player, a sport in which I still love to this day. After my playing days were over I needed to find a release so I took up individual sports to satisfy my competitive edge. For the past 5 years I have focused on the triathlon and I love it. It provides a great social outlet and a great opportunity to travel around the county doing events.

Outside of work I am an entrepreneur and take calculated risks in different investments. No risk no reward. I am a true believer that you have to go after what you want. I am pretty frugal when it comes to myself (although this is getting better) but stop at no expense when it comes to fun or other people. I don't like money coming in the way of a good time.
What am I looking for? If you made it through this that is a good start.
Interests:

Cooking, Music and concerts, Exploring new areas, Playing sports, Travel/Sightseeing, Volunteering, Watching sports

Sports & exercise:

Auto racing / Motorcross, Baseball, Basketball, Billiards / Pool, Bowling, Cycling, Football, Running, Skiing, Soccer, Swimming, Tennis / Racquet sports, Hockey, VolleyBall

Exercise habits:

I exercise 3-4 times per week

Pets:

Political views:

Middle of the Road

Sign:

Don't display my sign

College:

I'll tell you later

For fun:

I like to swim in the ocean after a long day at work. Or sit at night on the deck and watch the sun set and listen to the ocean. During the work week I workout several times a day either swimming, running or biking. I enjoy BBQ's on the weekend.

Favorite hot spots:

I enjoy the Tiki bar in Carolina Beach. Duck-n-Dive, Late afternoons are great on the patio at Real cafe. I prefer an acoustic guitar and a great atmosphere. When traveling I like to go any game that is live. I would love to get back to Asia.

Favorite things:

Water sports, dogs, a sunny weekend, my pool, the ocean, pizza, a cold glass of water after a great workout, a good investment, company, grilling out, spending time w/ friends, soccer, navigatiing through a foreign county without knowing the language

Last read:

Seabiscuit – the book was better than the movie
Kite Runner – don't bother with the movie
Better – written by a doctor about the ups and downs of the medical profession.
Who's Afraid of a Big Black Man – a great book about racial sterotypes.
| ABOUT... | HIM | HIS DATE |
| --- | --- | --- |
| APPEARANCE: | | |
| Height: | 6'0" (182cms) | 5'0" (152cms) to 6'3" (190cms) |
| Body type: | Athletic and toned | Slender, Athletic and toned |
| Eyes: | Blue | No preference |
| Hair: | Light brown | No preference |
| | | |
| LIFESTYLE: | | |
| Smoke: | No Way | No Way |
| Drink: | Moderately | Social Drinker, Regularly, Moderately |
| Occupation: | Medical / Dental / Veterinary / Fitness | No preference |
| Income: | $100,001 to $150,000 | $50,001 to $75,000, $75,001 to $100,000, $100,001 to $150,000 |
| Relationship: | Never Married | Never Married, Widow / Widower, Currently Separated, Divorced |
| Have kids: | No | Yes, and they sometimes live at home, No, Yes, and they live away from home, Yes, and they live at home |
| Want kids: | No, but it's OK if my partner has kids | Not sure, Probably not, No |
| | | |
| BACKGROUND/VALUES: | | |
| Ethnicity: | White / Caucasian | Asian, Latino / Hispanic, Middle Eastern, Native American, Pacific Islander, White / Caucasian |
| Faith: | Spiritual but not religious | No preference |
| Languages: | English, Spanish | No preference |
| Education: | Graduate degree | Bachelors degree |
Your message has been sent to SandPiper4100
We encountered a problem sending your message to SandPiper4100. Please try again later.