Heavy is the head that wears the crown.
LifeIsGood27FL has been notified that you want to learn about him.
Check back after a few days & see if he has added more details to his profile.
Like
«
»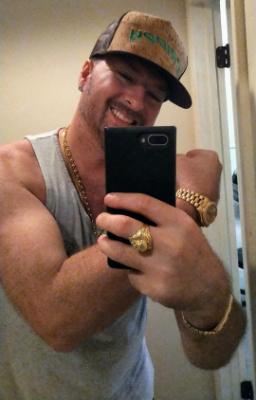 Active within 24 hours
33 year old man
Boynton Beach, Florida, United States
Seeking:

women 21-34

Within:

15 Miles of Boynton Beach, Florida, United States
Relationship:

Never Married

Have kids:

No

Want kids:

Someday

Ethnicity:

White / Caucasian

Body type:

Athletic and toned

Height:

6'0" (182cms)

Faith:

Christian / Other

Smoke:

No Way

Drink:

Social Drinker
ABOUT HIM & WHO HE'S LOOKING FOR
My name is Chris and I am a Floridian, I was born and raised here and I love being in Florida. I am a good human being and I have strong ethics in life, I believe in karma and I treat people with love. I am a pretty unique and diverse person and somewhat of a cultural chameleon and I have some great stories and have lived a pretty good life so far and it's just getting better. I will keep you laughing and I am a character, that's guaranteed. One day I will definitely write a book about it all!

Now let's be honest here, how funny is it that people like myself and YOU go on the computer to meet other people nowadays when they are perfectly capable of doing so in real life? It seems like technology is taking over everything! I certainly have never been the kind of guy that has to look online for a date (whatever that means lol) but if I can meet someone new and interesting that I maybe would not encounter in my everyday activities or in my normal circle then it's all good. Life is a wild ride and there are so many amazing experiences that are even better with the right person there to share them with you, finding that person is not easy and it takes some trial and error but if you don't ever try then you will never know! It's a cold world out there but it's so much warmer under the covers with someone awesome who loves to snuggle and sleep in late. ;)

I'm not interested in one night stands or any girls who are dating a bunch of guys because that's not my style and I'm definitely looking for someone who is faithful, loyal, and easy to talk to and definitely not someone too busy going a million miles an hour all the time. I'd love to meet someone I can have lunch/dinner with and spend a relaxing night curled up together watching movies and to just "be" sometimes and enjoy each others company. I love going to concerts and I don't mind hitting a bar once in awhile late at night but that's not what I want to do every night. It seems that's what most people do is just drink constantly and their free time revolves around going out and getting hammered but that's not how I live and I'm looking for someone who enjoys being sober just as much as having a few top shelf Margarita's. I do make some really awesome ones btw and I use real lime juice and Patron! lol

I'm looking for one sexy lady who wants to meet someone interesting and new and spend time together and see how it goes, and I am looking for someone sane and stable. I can't promise anything or predict the future but I can tell you that I am honest, safe, clean, and don't play games or cause drama and I am not looking for any nor will I put up with any. I'm looking for someone who is a good person with a kind heart and is available and actually single without multiple guys texting them all day. I am not the single lonely guy by any means and I have been in good meaningful relationships since my late teens so that's what I'm used to, I'm rarely single.

My ideal match would probably be confident, flirty and fun but still have plenty of self respect and who takes good care of herself and values her health and appearance. I don't care if you make a million dollars a year as a model or if you volunteer and take care of kittens all day, if you are happy with yourself and what you do in this time and place then that's what counts. if you don't do anything seriously for work and just like to float along like a feather then that is okay too. I live a healthy lifestyle and respect others who do the same but I still know how to have fun and chill and let loose sometimes. I have my own place, my own car and my own business and I'm not some slacker. If we go out for dinner or drinks, it's definitely my treat and I believe in being a provider and paying for my date. But I also expect someone to be a team mate and carry their own weight as well in a relationship. So I'll buy us the lobster tails and nice bottle of red if you will steam them and pop the cork on the wine! Message me...
Interests:

Cooking, Dining out, Fishing/Hunting, Gardening/Landscaping, Hobbies and crafts, Movies/Videos, Museums and art, Music and concerts, Nightclubs/Dancing, Travel/Sightseeing, Volunteering, Wine tasting

Sports & exercise:

Dancing, Swimming, Walking / Hiking, Other types of exercise

Exercise habits:

I exercise 1-2 times per week

Pets:

I like

Birds, Exotic Pets, Fish

Pet Essay:

I have some awesome crazy cats and a Blue Pitbull who thinks she is a person lol

Political views:

Some other viewpoint

Sign:

Sagittarius

College:

I'll tell you later

For fun:

I love going out to dinner, big fan of seafood, sushi, red wine. I love trying new things and I don't order the burger on the menu. I like to cruise around with the top down, love going to concerts to see live music. Also thinking, reading, relaxing!

Favorite hot spots:

Cruzan Amphitheater, try to make it to Miami for all the reggae concerts at Bayfront Park, Cityplace is cool, anywhere with good fresh sushi or seafood, Boston's on the beach in Delray, Lemongrass, Boca Muvico, Casino's, Taking the boat out, hot tub!

Favorite things:

I love Tea. I love delicious food and eating out as much as possible. I like boating, fishing, nature and wildlife. Crystals and gems! I'm a big music fan and music is a major part of my day, I love 90's music, rock, alternative, old hip-hop, reggae!

Last read:

The ingredients on anything I eat or drink, I'm very much into eating beneficial healthy foods so I make sure to keep it all natural and organic whenever possible! I read the labels when I buy stuff! Celestine Prophecy is a favorite book of mine.
ABOUT...
HIM
HIS DATE
APPEARANCE:
Height:

6'0" (182cms)

5'0" (152cms) to 5'10" (177cms)

Body type:

Athletic and toned

Slender, About average, Curvy, Athletic and toned

Eyes:

Blue

Blue, Brown, Green, Hazel

Hair:

Light brown

Black, Light brown, Dark brown, Blonde, Dark blonde, Platinum

LIFESTYLE:
Smoke:

No Way

No Way, Occasionally

Drink:

Social Drinker

Never, Social Drinker, Regularly

Occupation:

Other profession

No preference

Own my own businesses, have been my own boss for several years now. Feels good! :)

Income:

I'll tell you later

No preference

Relationship:

Never Married

Never Married, Currently Separated

Have kids:

No

No answer

Want kids:

Someday

Definitely, Someday, Not sure

BACKGROUND/VALUES:
Ethnicity:

White / Caucasian

Latino / Hispanic, Pacific Islander, White / Caucasian, Other

I'm Italian and German with a twist of lime.

Faith:

Christian / Other

Buddhist / Taoist, Christian / Catholic, Spiritual but not religious, Christian / Other

I believe in God, and I think there is ALOT more to life than we all really know about..so if people want to argue about what to call him/her/it then go for it - but honestly I don't think it matters as long as you lead a kind and righteous life.

Languages:

English

English

Education:

Some college

High school, Some college, Associates degree, Bachelors degree
Your message has been sent to LifeIsGood27FL
We encountered a problem sending your message to LifeIsGood27FL. Please try again later.